The Reel Life
Joe Doyle
Co-author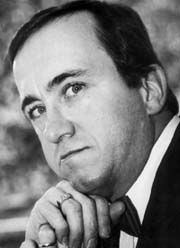 Joe Doyle is co-founder, managing director and playwright-in-residence of the Actors' NET of Bucks County, a small nonprofit regional theater company in residence at The Heritage Center, Morrisville, PA.

Married to NET artistic director Cheryl Doyle, Joe has spent the past ten years developing a reputation as a comedy playwright. He wrote and directed The Christmas Carol Conspiracy: Scrooge's Revenge, which bowed in Morrisville in Dec. 1996 and moved off-Broadway (where he also directed and co-starred as Scrooge) the following year. During the NYC run, he cast actor Jonathan Marten to co-star as Nephew Fred. Since then the pair has enjoyed a rather demented professional relationship, especially with regard to the creation and development of The Reel Life, which started out as two scripts for a proposed sitcom, before being rewritten for the screen and, in its latest incarnation, as a stage play.
A Connecticut Yankee
Joe was born in Hartford, CT and raised in Terryville and then Bristol, CT. After graduating high school in 1967, Joe briefly attended college and then enlisted in the U.S. Marine Corps. Determined to pursue a show business career, he wanted to get his military obligation behind him. The Marine Corps discovered his writing aptitude and assigned him to their combat correspondents orientation course. From 1968-69, he worked as a Marine Corps combat correspondent in the Vietnam war.

From 1970 - 72, Joe worked as a newspaper reporter for The Bristol Press. He covered local government and politics. When the theatre critic died, he was named the new theatre critic as well. This revived his interest in performing. He gravitated into politics as a political speech writer (majority of candidates elected) and then, under the GI Bill, studied theater arts at the Leland Powers School of Radio, Television and Theatre in Boston, graduating in 1975.

Ship Sinks, He Weds — No Connection
Joe immediately landed an acting job performing in summer stock on an actual operating showboat, The Driftwood Floating Theatre, then in Kingston, NY. Unfortunately, he couldn't return for a second season. It sank. By the time the showboat had been raised, Joe had already started his playwriting career and landed a job with a company in St. Andrews, New Brunswick, Canada. While acting with the Chocolate Cove Players, he met Cheryl Ramberg. Eight months later, they were wed.

The Doyles settled in New York, living in a studio apartment on West 50th Street in Hell's Kitchen. The following year they moved to Queens. Although they tried to live "a normal life" during their first few years of marriage, their need to perform won out when they were both cast in a production of A Funny Thing Happened On the Way to the Forum.

Joe also came to admit one other thing. Along the way — through Vietnam, his years as a journalist, then in politics and as a struggling performer — he had developed into a full-blown alcoholic. "I got sober in 1983," he recalls. "Swallowed my last beer, then my pride and went into rehab and got it together."
His Career Soars
Now sober, with renewed optimism, Joe attacked his career — acting and writing. His first produced play was a black comedy, The Adventures of Red Death and Black Plague or Murder Without Death. Shortly after the run in Queens, NY, the Doyles moved to Bucks County, PA. In a dinner theater in New Hope, his second comedy, Ghost of a Chance (now titled Bride, Groom and Ghost), was produced.

Joe was working Bucks County area theaters when he landed a gig as comic gangster Wardell Noonan in the cabaret revue, SpeakEEEZy at The Claridge Casino and Hotel in Atlantic City. From there, he stepped into principal roles on the dinner theater circuit. He quickly appeared in three national stage tours in two years — a multi-million dollar staging of The Wizard of Oz, the Troika Organization's 50th anniversary revival of Oklahoma and Troika's final months of the first national tour of The Will Rogers Follies and its immediate second national tour — this time Joe co-starred as Clem Rogers with Bill O'Brien (who now has a recurring role on NBC's The West Wing) headlining as his son, Will.

While touring, Joe's first play produced in Manhattan was his comic one act, The Girls — produced at The Courtyard Theater in Greenwich Village by Lady Charleston productions.

After The Will Rogers Follies tour, Joe decided he was too old to live out of a suitcase. He and Cheryl then founded the Actors' NET of Bucks County — a nonprofit non-Equity company. There, they have developed a growing reputation for quality productions. They staged The Christmas Carol Conspiracy: Scrooge's Revenge in Bucks County their first year and then took it to New York the following year. It earned glowing reviews and The Village Voice labeled it a holiday highlight and especially recommended it to devotees of NBC's Saturday Night Live because of its satirical edge.
Other Joe Doyle Plays
Joe's Actors' NET has also produced Sherry, a comedy he said he wrote for "straight, gay and other twisted people" and The Last Days of the Dinosaurs, a serio-comedy and second prize winner in a national playwriting competition sponsored by the 13th Street Rep Company in New York.

Doyle also writes historical dramas for an offshoot of Actors' NET — the Bucks County Historical Theater Company, which he founded. His play Christmas at Summerseat has become an annual presentation at the historic home of Summerseat, the only house in the U.S. known to have been owned by two signers of the Declaration of Independence and U.S. Constitution — Robert Morris (for whom the borough is named) and George Clymer.

Doyle has also written a musical about the life and times of Robert Morris, who financed the American Revolution. Titled The Man Who Bought a Country, the musical bowed in 2004 as part of Morrisville borough's bicentennial anniversary.

In August, 2002, the Actors' NET of Bucks County stages Doyle's first musical, Dreamers. Inspired by events in his real life, it's about a former Marine who finds love and battles the bottle in order to pursue his show business dreams.

"I am working with a genius arranger, Jim Barto, and we are having a ball putting it all together," Doyle notes. "By producing Dreamers now, we hope to move it to New York next year as a prelude to our 2004 musical production of The Man Who Bought a Country," Doyle explains. "I am hopeful the Morris musical will eventually become an annual event in Morrisville and bring tourists into town to bolster its economy."

Doyle has at least a dozen plays completed and others in various stages of development. He divides his time equally — one-third acting, one-third directing and one-third writing. "Notice how little time is left for such things as sleeping!" he notes.